Paver, Fence, & Deck Restoration For Maximum Mechanicsville Curb Appeal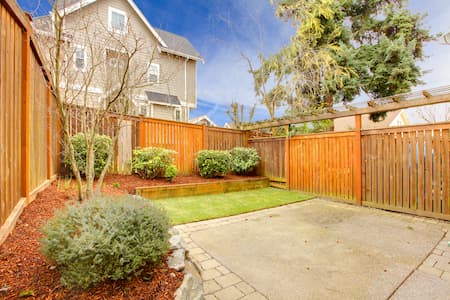 You don't need to replace your deck, fence, or pavers to maximize your Mechanicsville curb appeal, just call your go-to pressure washing professional for expert paver cleaning, fence staining, or deck restoration services! Invasive organic growth and the effects of weathering can take a toll on your Mechanicsville property's exterior surfaces. Dingy gray decking, worn fence boards, and mossy pavers can diminish your curb appeal and prevent you from enjoying healthy and inviting outdoor spaces. A pressure washing professional can help.
For a fraction of the cost of replacing your dirty, grimy fence, deck, and patio materials, a fence and deck restoration expert can make your surfaces look brand new again. Here are a few ideas to get you started on your reno-free path to enhancing your Mechanicsville property's curb appeal.
Divine Deck Restoration
More and more, people are enjoying the benefits of staying at home and sharing time with family and friends in their outdoor living spaces. Deck restoration can improve the safety, appearance, and longevity of your deck's surfaces. Deck cleaning will eliminate algae, moss, lichen, and other invasive organisms that threaten the integrity of your deck's surfaces, while deck staining and deck sealing will enhance the beauty of your wood surfaces and provide your natural wood with an invisible barrier to protect against the elements.
Take Pride In Your Pavers
You'll be amazed by the difference that routine paver cleaning and paver sealing can make for your paver driveway, walkways, patio, outdoor kitchen, and more! Removing unwanted organic growth from your concrete, natural stone, or brick pavers will restore their luster. Be sure to follow up your paver cleaning project with paver sealing to protect your pavers from exposure and make routine clean-ups quick and easy.
Fabulous Fence Restoration
Over time, even the most beautiful wood fencing can become worn and weathered, diminishing your Mechanicsville property's curb appeal and dragging down the freshness of your outdoor spaces. A fence restoration professional will restore the look of your wood fencing with expert fence cleaning using customized cleaning solutions to bring out the beauty of your wood surfaces without damage. Stylish fence staining products are available in a variety of styles and finishes to create a high-end appeal for your fencing, and when you follow with fence sealing, you'll seal in the freshness and make routine maintenance a breeze.
A Pressure Washing Pro You Can Count On In Mechanicsville
If you've been looking for a go-to pressure washing professional for your Mechanicsville home or business, the experts at In His Power Exterior Washing LLC have you covered with a wide variety of residential and commercial services that include:
House washing & window cleaning
Roof cleaning & gutter cleaning
Sidewalk & driveway cleaning
Paver cleaning & sealing
Fence & deck restoration
Storefront cleaning & building washing
Graffiti removal
And more!
Request a free quote for residential and commercial pressure washing in Mechanicsville by calling (804) 516-5899 or using our easy online contact form.
Only Trust the Best! Call Your Mechanicsville Pressure Washing Experts Today!