Gutter Cleaning To Ensure The Safe Operation Of Your Gutter Systems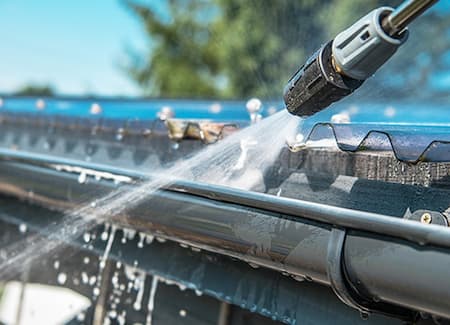 Maintaining the flow of your Mechanicsville gutters has never been easier when you leave it to the gutter cleaning pros at In His Power Exterior Washing LLC. Our skilled professionals have the experience, expertise, and equipment to tackle your gutter cleaning project and leave you with free-flowing gutters that will protect your Mechanicsville home and property.
At In His Power Exterior Washing LLC, we offer unmatched attention to detail and quality results on all of our exterior cleaning and maintenance services for your Mechanicsville home. Our gutter cleaning professionals will safely remove leaves, twigs, and debris from your gutter systems to enhance their performance and promote smooth operation.
Clean gutters not only keep water and debris off of your roof's surface, but they channel it away from your landscaping, your entryways, and your home's foundation. Routine gutter cleaning is a great way to prevent blockage, pooling, and breaches that can damage your gutters and threaten the integrity of your property.
To request gutter cleaning or any of our quality pressure washing for Mechanicsville and the neighboring East-Central Virginia communities, use our online form or give us a call today at (804) 516-5899 to speak to one of our friendly specialists.
Washing Out Downspouts
Downspouts rely on gravity to do the hard work of channeling the flow of water from your roof, but when your downspouts are clogged with leaves, twigs, and debris, it can impede the flow of water and lead to issues with your system. Our gutter cleaning professionals have expert tools and professional techniques to remove the toughest clogs, nesting materials, and other debris from your downspouts to keep them working the way they were intended.
Reliable Pressure Washing Services For Your Mechanicsville Property
In His Power Exterior Washing LLC is proud to be the go-to pressure washing professional your friends and neighbors in the Mechanicsville area trust for quality pressure washing services. We offer a wide array of reliable services to meet your needs:
House washing & window cleaning
Roof cleaning & gutter cleaning
Driveway washing & sidewalk cleaning
Deck & fence restoration
Paver cleaning & sealing
Commercial pressure washing
Our experienced professionals have over ten years in the industry, and you can count on us to treat your property with the same care we'd treat our own. Use our easy online form to request a free quote for residential or commercial pressure washing services in the Mechanicsville area, or give us a call today at (804) 516-5899 to speak to one of our courteous specialists about services for your home or business.
Only Trust the Best! Call Your Mechanicsville Pressure Washing Experts Today!