Graffiti Removal To Thoroughly Wash Away Unwanted Paint & Vandalism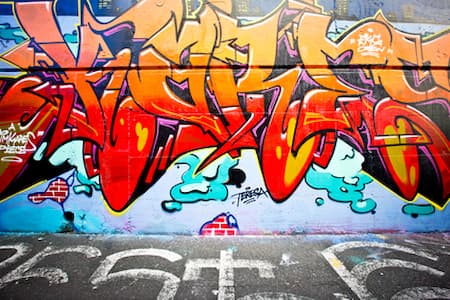 The commercial pressure washing pros at In His Power Exterior Washing LLC offer expert graffiti removal to quickly eliminate unwanted paint and acts of vandalism and restore the fresh appeal to your Mechanicsville property. If your Mechanicsville property has been defaced, don't delay - call our graffiti removal specialists today at (804) 516-5899!
Spray Paint Cleaning
Whether you've got issues with graffiti and vandalism, overspray from a project, or want to prep your building's exterior for a fresh coat, our spray paint cleaning specialists can help. We use proven graffiti removal techniques, customized cleaning applications, and eco-friendly cleaning products to safely eliminate unwanted spray paint from a variety of surfaces, including brick, vinyl siding, concrete, and more.
Why Prompt Graffiti Removal Is Important For Your Mechanicsville Property
When vandals strike, time is of the essence to ensure that your Mechanicsville property maintains its fresh appeal. Vulgar words and criminal expressions are embarrassing and, if left unchecked, can lead to copycat vandalism that can quickly get out of hand. The longer spray paint remains on your porous surfaces, the harder it is to remove.
Prompt graffiti removal is vital to ensuring that spray paint comes off easily, your welcoming freshness remains consistent, and repeat offenders are kept at bay. If you need graffiti removal for your business or commercial property in the Mechanicsville area, don't wait - give us a call today at (804) 516-5899 to speak to one of our friendly exterior cleaning experts about our customized services.
Mechanicsville Pressure Washing For An Appealing Business
Whether you own a hotel in Highland Springs, a shopping center in Sandston, or a grill in Glen Allen, having a go-to pressure washing professional to help you maintain your outdoor spaces can make all the difference for your business or commercial property. We'll work with your management staff or maintenance team to keep your exterior surfaces looking their best.
We offer a wide array of quality commercial pressure washing for Mechanicsville with services that include:
Building washing
Graffiti removal
Storefront cleaning
Sidewalk cleaning
Window cleaning
Concrete & pavement cleaning
And more!
We use professional-grade cleaning equipment, environmentally-friendly cleaning products, and customized pressure washing and soft washing applications to safely clean your surfaces without damage. Routine pressure washing for your business or commercial property will keep unwanted organic growth, grimy buildup, and ugly stains at bay and give your Mechanicsville property a fresh and welcoming appeal.
Request a free quote for commercial pressure washing services in the Mechanicsville area by using our easy online request form or give us a call today at (804) 516-5899 to speak to one of our courteous pressure washing pros at In His Power Exterior Washing LLC.
Only Trust the Best! Call Your Mechanicsville Pressure Washing Experts Today!